Living Arrows {2018} 25/53
June 18, 2018
Every week I join in with Living Arrows, a blog linky run by Donna at What the Redhead Said. The name Living Arrows comes from a poem by Kahlil Gibran; "You are the bows from which your children as living arrows are sent forth", and each Monday I share a photo of M, and one of B, and a bit about what we've been up to the previous week.
Last week was a busy one. As well as our usual toddler classes, we also attended the wedding of a very dear university friend of mine at the weekend. The wedding was in Gloucestershire; what should have been a four hour drive away. Somehow, on Friday, it took us almost ten hours door to door! Admittedly, we did stop for lunch and dinner in that time. We didn't really have any choice, though, as it felt like every time we got back on the road, either roadworks or accidents meant that we crawled most of the way, and we didn't want to have B in her car seat for too long at a time. Nightmare!
Once we'd arrived, though, we really appreciated the lovely accommodation I'd found for us to stay in, and of course the wedding was very special. It was so lovely to see my friend so, so happy. I'm thrilled for her (and her very lucky husband; she looked stunning!).
Both of this week's Living Arrows photographs were taken at the wedding. I managed to snap this photo of M has she was enjoying the speeches. It sounds a strange thing for a two-year-old to be enjoying speeches, but she loved joining in each time everyone clapped (and there was a lot of clapping!).
B was a superstar, too. I kept her in the sling for most of the ceremony and the drinks reception, then she happily played with her
(affiliate link) toy in her carrycot throughout most of the wedding breakfast.
Fortunately, the journey home was a lot more straightforward and we are all enjoying being back to our home comforts. It's been a lovely weekend but we're cream crackered from all that driving and ready for what will hopefully be a nice, calm week!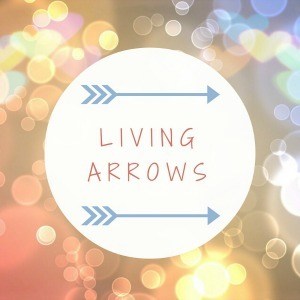 *Affiliate Link – I am a participant in the Amazon Services LLC Associates Program, an affiliate advertising program designed to provide a means for sites to earn advertising fees by advertising and linking to amazon.co.uk.